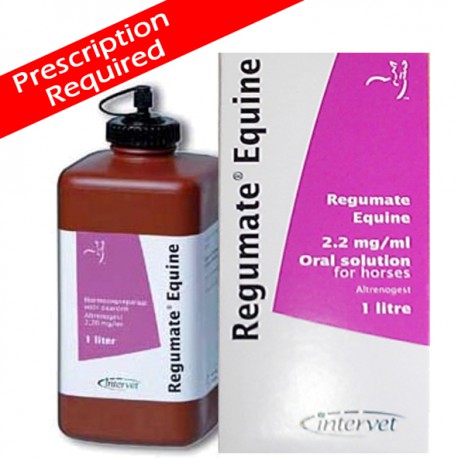 View larger
Regumate Equine 1Litre
New product
Regumate Equine is a hormonal treatment for mares. It may be used to suppress and prevent the signs of oestrus in mares, which may be particularly useful early in the breeding season
| | |
| --- | --- |
| Product Name: | Regumate Equine |
| Price (Ex VAT): | £150.00 |
| Pack: | 1 litre |
| Vet Prescription Required: | Yes |
| Legal Category: | POM-V |
| Available for sale to ROI: | No |
0 Item Items
This product is no longer in stock
Warning: Last items in stock!
Availability date: 0000-00-00
Regumate Equine is a hormonal treatment for mares. It may be used to suppress and prevent the signs of oestrus in mares, which may be particularly useful early in the breeding season. It is also used strategically as part of a breeding program to control the cycle of breeding mares, allowing synchronisation of oestrus and mating, which means greater efficiency of time spent at stud.
Regumate Equine is a vegetable oil solution for oral administration, containing the synthetic progestagen altrenogest and should be used under the guidance of a veterinary surgeon. Regumate Equinemay only be prescribed and administered by your veterinary surgeon from whom advice should be sought. Further information is available on request.
| | |
| --- | --- |
| roduct Name: | Regumate Equine |
| Price (Ex VAT): | £150.00 |
| Pack: | 1 litre |
| Vet Prescription Required: | Yes |
| Legal Category: | POM-V |
| Available for sale to ROI: | No |
No customer reviews for the moment.