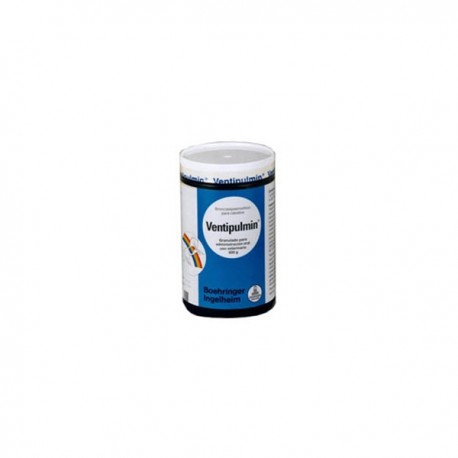 View larger
Ventiplulmin Granules
New product
Treatment of respiratory disease in horses where airway obstruction due to bronchospasm and/or accumulation of mucus is a contributing factor, and improved mucociliary clearance is desirable. 
| | |
| --- | --- |
| Product Name: | Ventiplulmin Granules |
| Price (Ex VAT): | £50.40 |
| Pack: | 500gm |
| Vet Prescription Required: | Yes |
| Legal Category: | POM-V |
| Available for sale to ROI: | No |
19 Item Items
Warning: Last items in stock!
Availability date: 0000-00-00
Treatment of respiratory disease in horses where airway obstruction due to bronchospasm and/or accumulation of mucus is a contributing factor, and improved mucociliary clearance is desirable. 

White granules. Each gram of granules contains 16 micrograms of clenbuterol hydrochloride.
In particular:
Acute, sub-acute and chronic infections where the presence of mucus and/or micro-organisms may stimulate bronchospasm or cause airway obstruction and thus increase airway resistance. For example, bronchitis, bronchiolitis and bronchopneumonia alone, or associated with equine influenza and other viral respiratory diseases.
| | |
| --- | --- |
| Product Name: | Ventiplulmin Granules |
| Price (Ex VAT): | £39.00 |
| Pack: | 500gm |
| Vet Prescription Required: | Yes |
| Legal Category: | POM-V |
| Available for sale to ROI: | No |
No customer reviews for the moment.