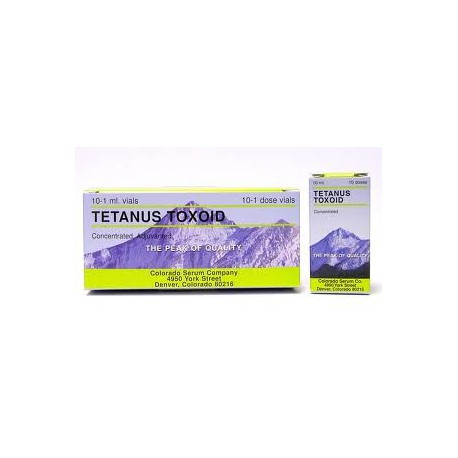 View larger
Tetanus Toxoid
New product
This medication is given to provide protection (immunity) againsttetanus (lockjaw) in adults and children 7 years or older. 
| | |
| --- | --- |
| Product Name: | Tetanus Toxoid |
| Price (Ex VAT): | £40.00 |
| Pack: | 1x10x1ml |
| Vet Prescription Required: | Yes |
| Legal Category: | POM-V |
| Available for sale to ROI: | No |
| Refrigerated Delivery: | £10.00 |
20 Item Items
Warning: Last items in stock!
Availability date: 0000-00-00
This medication is given to provide protection (immunity) againsttetanus (lockjaw) in adults and children 7 years or older. Vaccination is the best way to protect against this life-threatening disease. Vaccines work by causing the body to produce its own protection (antibodies). Tetanus vaccine is usually first given to infants with 2 other vaccines for diphtheriaand whooping cough (pertussis) in a series of 3 injections. This medication is usually used as a "booster" vaccine after this first series. Closely follow the vaccination schedule provided by the doctor.Booster injections may be needed at the time of injury in older children and adults if it has been 5-10 years since the last tetanus vaccine was received. Booster injections should also be given every 10 years even if no injury has occurred. This injection or an injection with tetanus/diphtheria or tetanus/diphtheria/pertussis may be used for the booster.
| | |
| --- | --- |
| Product Name: | Tetanus Toxoid |
| Price (Ex VAT): | £40.00 |
| Pack: | 1x10x1ml |
| Vet Prescription Required: | Yes |
| Legal Category: | POM-V |
| Available for sale to ROI: | No |
| Refrigerated Delivery: | £10.00 |
No customer reviews for the moment.