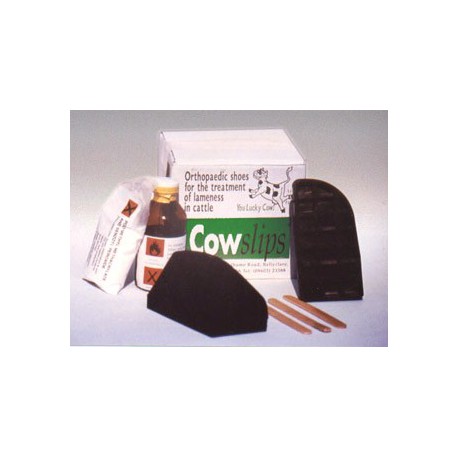 View larger
Cowslips Plus
New product
The shoes are made by injection moulding from hard wearing recycled PVC. They are shaped to fit snugly over the cow's healthy claw where they are fixed in position with a fast cure adhesive. 
| | |
| --- | --- |
| Product Name: | Cowslips Plus |
| Price (Ex VAT): | £72.00 |
| Pack: | 1x10 |
| Vet Prescription Required: | No |
| Legal Category: | POM-VPS |
| Available for sale to ROI: | No |
20 Item Items
Warning: Last items in stock!
Availability date: 0000-00-00
The shoes are made by injection moulding from hard wearing recycled PVC. They are shaped to fit snugly over the cow's healthy claw where they are fixed in position with a fast cure adhesive. When the hoof is properly prepared and cleaned, the Cowslips will bond securely and quickly every time. The sole of the Cowslips has a non-slip latticed tread and is approximately 5/8" thick, sufficient to comfortably lift the damaged claw off the ground. The absence of the pressure on the damaged claw relieves pain and minimizes further trauma. Mobility is immediately improved and increases in milk yield is noted. The Cowslips remain in place an average of 4 to 6 weeks, but a few may remain longer. Usually the shoes are shed spontaneously when the natural oils of the hoof break the specially.

| | |
| --- | --- |
| Product Name: | Cowslips Plus |
| Price (Ex VAT): | £72.00 |
| Pack: | 1x10 |
| Vet Prescription Required: | No |
| Legal Category: | POM-VPS |
| Available for sale to ROI: | No |
No customer reviews for the moment.