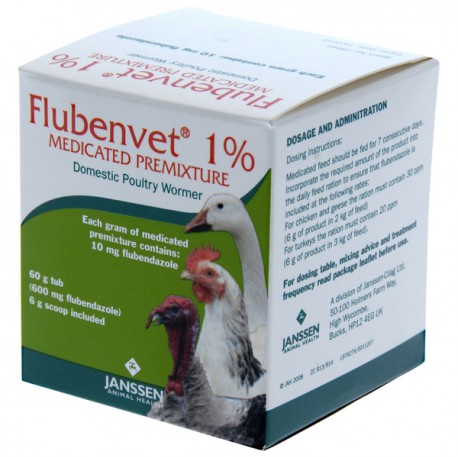 View larger
FlUBENVET 1% DOMESTIC POULTRY WORMER
New product
broad spectrum anthelmintic, effective against mature and immature stages and eggs of the following nematodes of chickens, turkeys, geese, partridges and pheasants : In the gastrointestinal tract: Ascaridia galli, Heterakis gallinarum, Capillaria spp.,
Legal Category                

POM-VPS

Vet Prescription Required

 No

Refrigerated Delivery       

No

Available for sale to ROI:

 No
20 Item Items
Warning: Last items in stock!
Availability date: 0000-00-00
Amidostomum anseris and Trichostrongylus tenuis. In the respiratory tract: Syngamus trachea Medicated feed should be fed for 7 consecutive days. Incorporate the required amount of the product into the daily feed ration. The daily ration should be fed as a complete ration during the 7 days
No customer reviews for the moment.